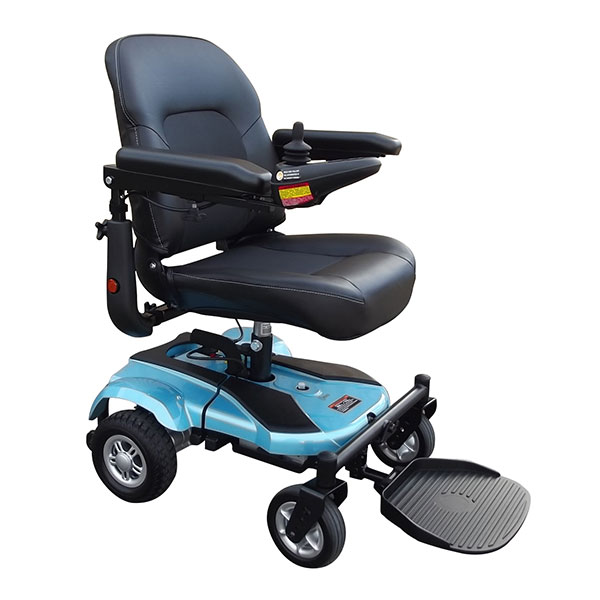 – New vibrant fresh colours available.
– Dismantle in seconds for easy transportation and storage.
– Puncture proof tyres front and rear.
– Suitable for indoors and shopping centres.
– New stylish comfortable contoured high back seat with height and width adjustable arm rests.
– Joystick mounting for left and right hand operation.
– Easy to operate quick release trigger which separates the base sections.
– Intelligent, regenerative electro-magnetic brakes activate automatically when the joystick is released.

Technical Specs
– Max Speed 6.4kph
– Range 15km
– Turn Radius 57cm
– Ground clearance 4.5cm
– Motor DC 24V, 90W (rating)/300W (Max)
– Controller PG VR2 50A
– Battery 12V/14A/H x 2pcs
– Charger 2A off-board
– Gradient 6°
– Caster 6″ x 2″ PU tyre
– Drive Wheel 200 x 75 PU tyre
– Brake intelligent, regenerative, electromagnetic brakes
– Total unit weight with battery 45.0kg
– Base 25kg, Battery 4.5kg, Seat 11kg
Weight capacity – 114kg.
Warranty – 2 years on power chairs, 6 months on batteries.